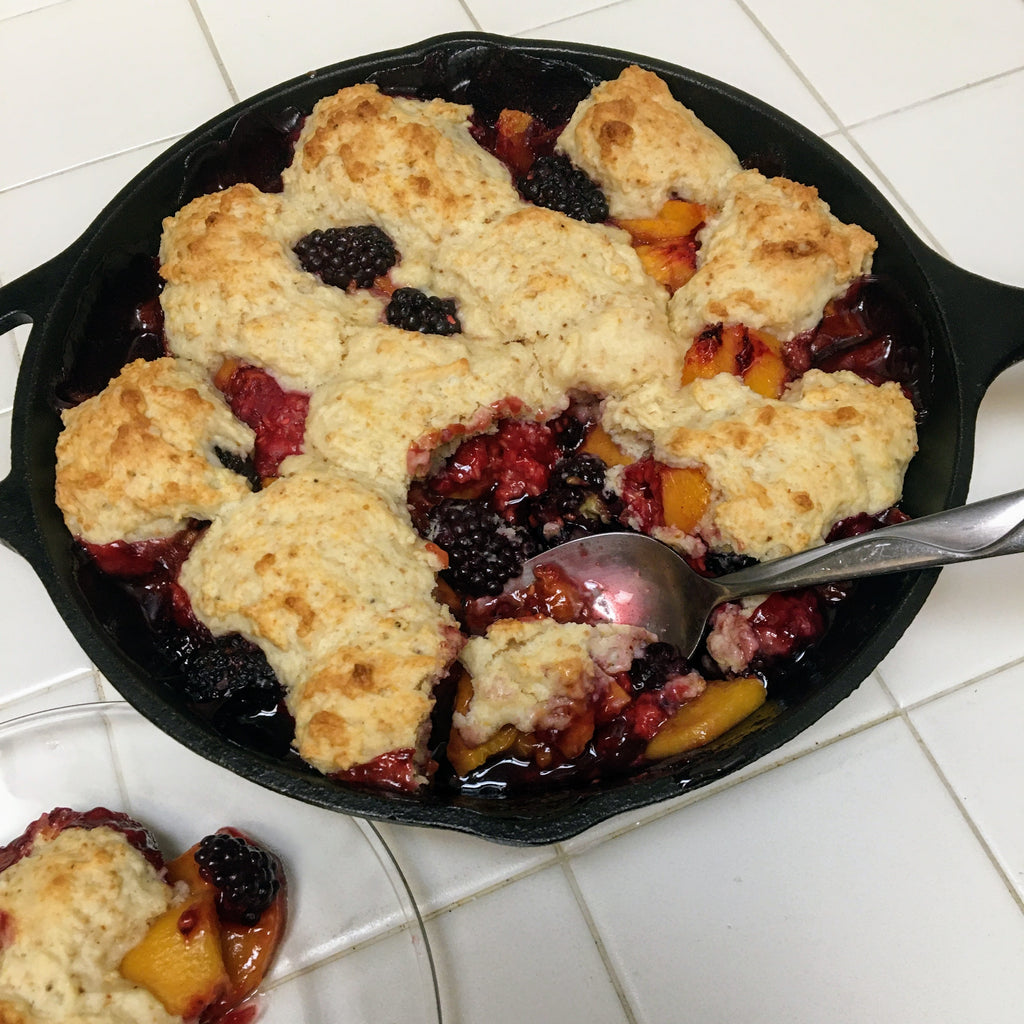 There's just something about a cobbler...it's the ultimate comfort food, and it never fails to impress either! It's also SUPER easy! Use with any in-season fruits.
You will need: 
1/2 Cup Sugar
3 Tablespoons Cornstarch
1 Teaspoon Bakers Blend
1 Teaspoon Vietnamese Cinnamon
1/8 Teaspoon Ground Cardamom
6 Medium Peaches, peeled and sliced
2 cups mixed berries (we used blackberries, raspberries and blueberries)
1 Tablespoon Lemon Juice
For the Topping:
1 Cup all-purpose flour
1/4 Cup Sugar
2 Teaspoons Grated Orange Zest 
¾ Teaspoon Baking Powder
¼ Teaspoon Sel Gris De Gue'rande Sea Salt
¼ Teaspoon Baking Soda
3 Tablespoons Cold Butter
¾ Cup Buttermilk
 Preheat oven to 375.
In a large bowl, mix the sugar, cornstarch, Bakers Blend, cinnamon and cardamom. Add fruit and lemon juice; toss to combine. Transfer to a 10" cast-iron or other ovenproof skillet.
In a small bowl, whisk the first six topping ingredients; cut in butter until the mixture resemble coarse crumbs. Add buttermilk; stir just until moistened.
Drop mixture by tablespoonfuls over fruit mixture.
Bake, uncovered, until topping is golden brown, 40-45 minutes.
Serve warm with vanilla ice cream or whipped cream.