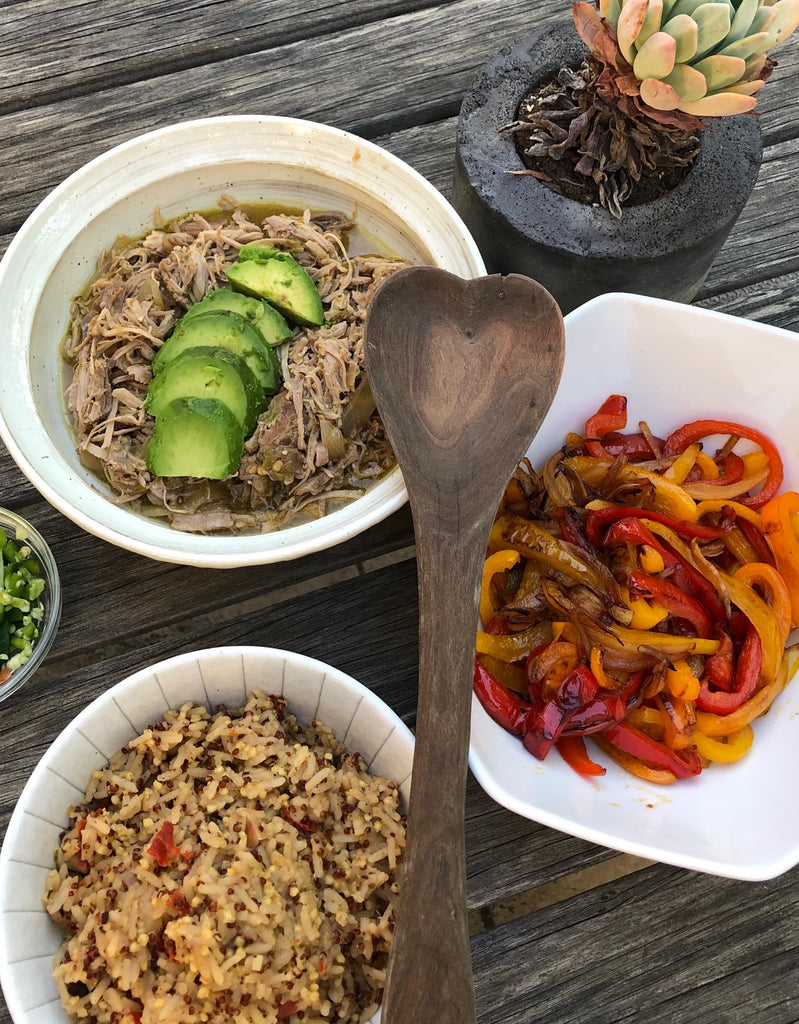 Nothing makes meat as tender and shreddable as cooking it in a slow cooker! You can do this one on low OR high, depending on your timeframe. 
You will need: 
3 Tablespoons Cuban Mojo Blend
3 lb +/- Pork Roast
3 limes
1 orange
1 onion
1 4oz can diced green chili (mild)
1/4 cup Olive Oil
1 avocado
1 each: Green Bell Pepper, Red Bell Pepper, Yellow Bell Pepper
Salt to taste
Step 1:
In a bowl, juice 3 limes and 1 orange. Zest 1 lime (Optional)
Add 3 Tablespoons of Cuban Mojo Blend and Olive oil. Whisk to blend. 
Step 2: 
Chop 1/2 Onion and put in slow cooker with green chilis. 
Place pork roast on top.
Pour your Mojo liquid over the top. 
Step 3:
Set your slow cooker to 4 hours on high OR 8 hours on low. 
30 minutes before you plan to eat, slice the rest of the onion along with the bell peppers and grill until a bit of char shows. 
Shred your meat in the liquid (it should be falling apart) and serve in one of our bowls over a scoop of our Cuban Mojo Rice. Top with grilled peppers and onions and sliced avocado! 
NOTE: If you have too much liquid in your crockpot, remove the lid for the last 10 minutes or so of cooking and let it evaporate to your liking. 
Love the Heart Spoon? Order it here.