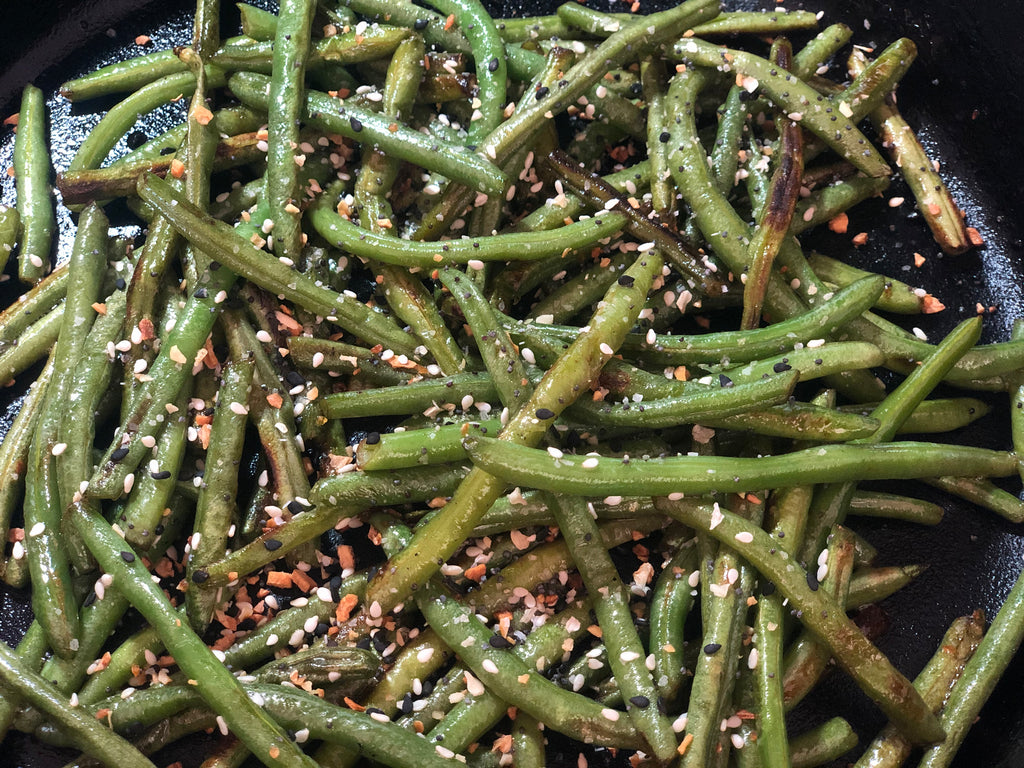 We almost always have frozen green beans on hand. When you don't feel like chopping up veggies for a salad, this can be your New Green Go To! 
You will need: 
2 Cups Frozen Green Beans
1 Tablespoon Olive Oil
Sprinkle of Everything Seasoning
Squeeze of lemon juice (optional)
Start by microwaving the green beans in a bowl with a few tablespoons of water in it until they are no longer frozen, about 2-3 minutes. (You don't want to cook them, you just want them no longer icy and cold.)
While the beans are in the microwave, put your olive oil in a cast iron pan. (It's okay to use a different pan, but cast iron gives these beans the heat they need more than anything else!) Turn heat up to high...you want that oil pretty hot. When beans are out of the microwave, give them a quick strain. Then dump them in the hot pan and watch out! They are going to SIZZLE and you'll need to be super careful of any hot oil drops!
Let the beans sizzle in one place for a minute before using tongs to carefully "toss" them around the pan. After each toss, let them sizzle. The point is to give them a gentle "char". Once about 1/2 your beans are showing this char, TURN OFF THE HEAT. 
Give a generous sprinkle of Everything Seasoning and a squeeze of lemon before serving.
Note: For extra flavor, add a pat of salted butter to the pan after you've turned off the heat. Let it melt and coat the beans before you sprinkle the seasoning.