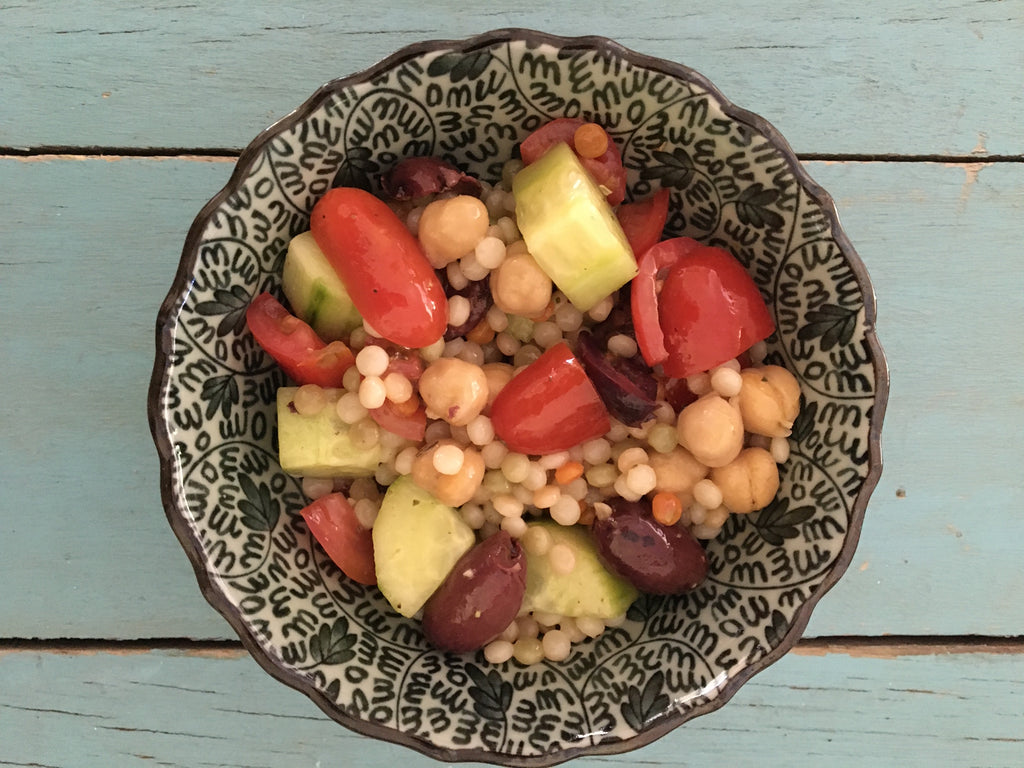 Easy, summery, and delicious. This keeps for a few days in the fridge, so make it ahead and enjoy! 
You will need: 
1 cup Israeli Cous Cous
1 Tablespoon Greek Blend
1/4 cup Olive Oil 
1 Tablespoon White Wine Vinegar
2 Tablespoons lemon juice
1 teaspoon honey
1 pinch Kosher salt
Fresh Ground pepper
1/2 -1 basket Cherry Tomatoes, halved
1 can garbanzo beans
1 cucumber, peeled and chopped
Kalamata Olives, halved, without pits
Prepare the cous cous according to package directions. Allow to cool. 
Make the Greek Dressing: whisk olive oil and Greek Blend. Add white wine vinegar, lemon juice, honey, a pinch of Kosher salt and a couple fresh grinds of pepper. Whisk well. (Since you may have extra dressing, we recommend preparing in a glass creut for easy pouring and storage.)
Put cooled cous cous in a bowl and mix in tomatoes, garbanzo beans, cucumber and kalamata olives. Drizzle with dressing to your taste and mix again. This is excellent when served right away and even better the next day. Serve chilled or at room temperature. 
Optional additions: Toasted pine nuts, feta cheese and/or roasted eggplant.