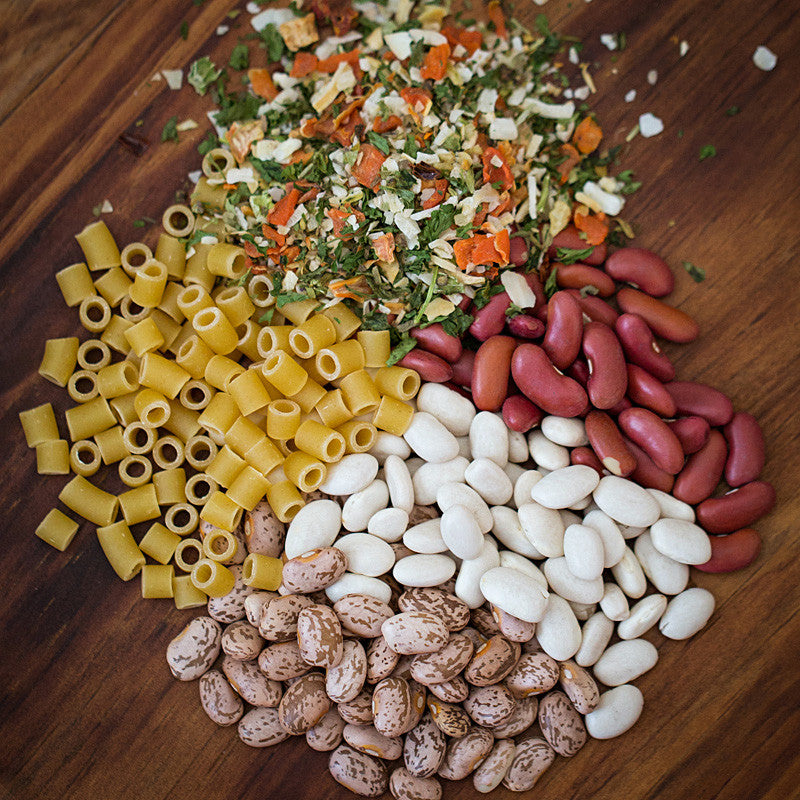 We make all our soup mixes in-house for the freshest product possible. This is our version of a traditional Italian soup meaning "pasta and beans". Serve with a crisp salad and a crusty French bread and you have a meal! Serves 6-8 people.
You will need: 4 cups Chicken or Vegetable Broth (low sodium is fine) and 1-14oz can diced tomatoes.
Directions: Rinse beans. Place beans in pot and add 6 cups water. Bring to a boil for 2 minutes. Remove from heat, cover & let stand for 1-4 hours or until beans are softened. Drain beans. (OR, soak beans in water overnight, drain and discard liquid.) Return beans to the pot. Add 4 cups water & 4 cups broth with seasoning packet & 1 can tomatoes w/juice. Bring to a boil. Reduce heat, cover & simmer for 30-60 minutes until beans are tender. Stir in pasta. Cover & simmer for 5-10 minutes until pasta is tender, stirring occasionally. Other suggestions: add chunks of cooked sausage or cooked chicken. May be cooked in a crockpot on low for 6-8 hours. Top with grated parmesan cheese.
Ingredients: Great Northern Beans, pinto beans, kidney beans, onion, carrot, celery, spinach, parsley, tomato, garlic, onion, chilies, tomato powder, lemon zest, basil, rosemary, oregano, sea salt, pasta (semolina flour, eggs, salt).